Comparing Kangxi and Earlier Porcelain
Chinese Kangxi blue and white porcelain at its best is superb and rivals any other Chinese blue and white produced during the earlier periods. It may not have the vigour of the Yuan or early Ming blue and white, or the stateliness of the Chenghua but what it does have are charming sophisticated designs inspired by for example the novel 'Romance of the Three Kingdoms' (attributed to Luo Guanzhong) and all that went before it, together with a great technical expertise that could produce a brilliant under-glaze sapphire blue for the painting, a fine thin attractive white, slightly bluish, silky glaze applied to a very white body. Unfortunately, it is very easy to gain an unfavourable impression because it was a period when due to huge demand from Europe and the home market, even very poor products were commercially viable. There were a very large number of kilns at the main centre of production at Jingdezhen producing hundreds of thousands of pieces of blue and white porcelain.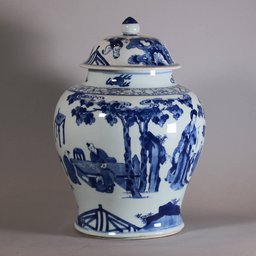 Designs on Kangxi Porcelain
Although many the themes on Kangxi porcelain were based on Buddhism and Daoist beliefs, primarily the porcelain with figurative decoration was inspired by illustrated books and popular Ming stories, these included the 'The Romance of the Three Kingdoms', 'The Romance of the West Chamber '(written by Wang Shifu), together with the perennially popular dramas, 'Xixiang Ji' and 'Wui Hu Zhuan'.
One useful source of information regarding the inspiration for the stories on Chinese porcelain are the Sir Michael Butler's catalogues. These are best obtained from Hanshan Tang's book shop.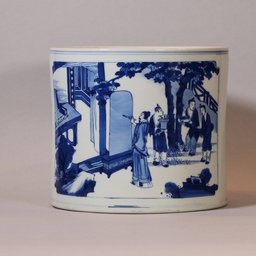 Chinese Kangxi blue and white porcelain was increasingly varied and innovative in its designs. In addition to the designs already mentioned Dutch and other European shapes and designs were in evidence prior and during the Kangxi period. One example of this is a close copy of a Dutch delft 'light-house' hexagonal coffee pot made by Lambert van Eenhoorn. This shape in turn was based on an earlier Dutch metal shape. Another is the tulip vases sometimes signed by Adrian Kocks. (These two were the most important makers of Dutch delft from the 17th century.)
It is interesting to note that on Chinese Kangxi blue and white porcelain of rounded forms that were made for the domestic market and export, the artists did not know how to complete the decoration of figurative scenes, which usually therefore ended in rockwork and clouds or plantains. In the case of Imperial wares usually a better solution was found.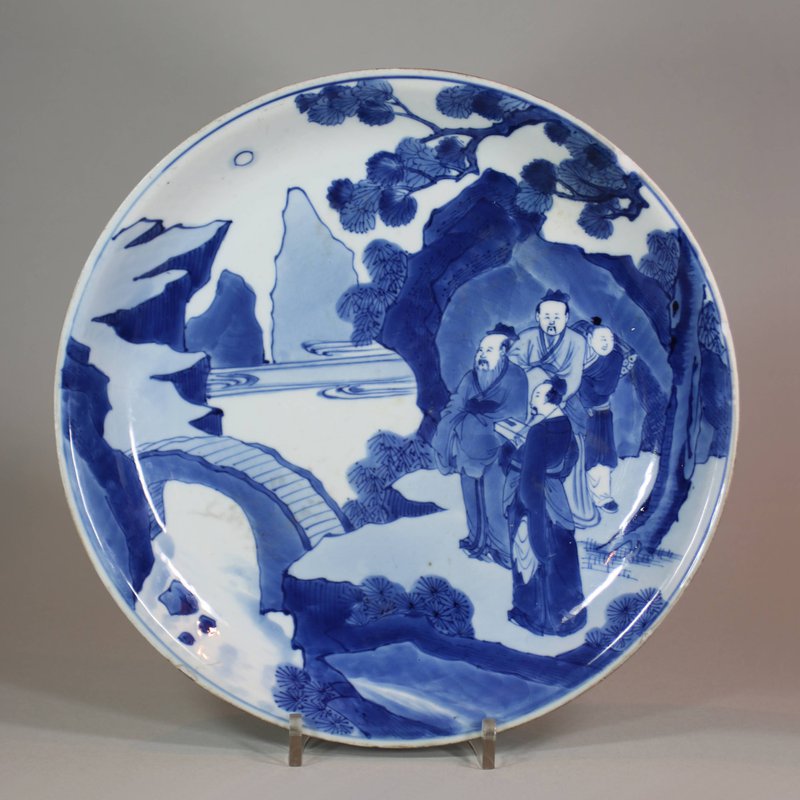 Comparing the Differences of Kangxi Porcelain
To differentiate between Kangxi blue and white porcelain made for Imperial use and that made for the public can be difficult, unless one is already familiar with the Imperial designs, but there are some rules of thumb that are useful. Imperial porcelain is of the highest quality and is nearly always finely marked, the potting is perfect and there are few, if any, iron spots or other imperfections in the glaze. There are connoisseurs who believe that there were very few calligraphers drawing the marks and optimistically think that it should be possible to identify the writing of the individual calligraphers.
Some collectors seem to find it difficult to differentiate between Chinese Kangxi blue and white porcelain and the earlier Transitional wares. Once again there are one or two rules of thumb. In outdoor scenes on Transitional wares the grass is always depicted with 'V' shapes; Transitional blue and white often had incised 'an-hua' borders and some shapes were peculiar to each of the periods. In the case of the finer pieces of Transitional porcelain, the figure painting is 'tighter' than that found on Kangxi blue and white. The former also displays a rather flatter perspective.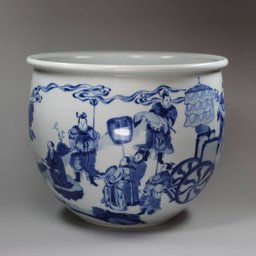 Fakes and Values
Until recently Chinese Kangxi blue and white porcelain was seriously under valued and even now with the interest from mainland China it is still possibly undervalued although already expensive. There are still areas where collecting Kangxi blue and white porcelain can be purchased for comparatively small sums of money. For example Kangxi blue and white porcelain tea bowls and saucers of a very high quality can be purchased for about £ 500, whereas early European counterparts can be considerably more expensive.
The amateur collector has to be very wary of fake Chinese Kangxi blue and white porcelain which continue to appear in large numbers and are sometimes seen at well-known auction houses described as being genuine. The present day fakers are very in touch in a way that the 19th century forgers were not. They know how to write the reign marks correctly and are very adept at transferring the designs of genuine pieces onto new ones. If they hear that they are doing something obviously wrong they soon put it right. For example, recently, in addition to the Kangxi fakes, Wanli-type large Kraak jars were being auctioned as being genuine but well-informed dealers pointed out that these jars should be made in two pieces and horizontally luted together in the middle. Quite soon the fake Wanli jars appeared but now made in the right way. Genuine wear is difficult to fake; artificial wear is inclined to be scratches from very few directions whereas genuine wear shows scratches from innumerable directions It is probably not sensible to discuss fakes in too much detail, as this website has a very large number of visitors. It can be very rewarding to collect Chinese Kangxi blue and white porcelain, but it is necessary to be very careful.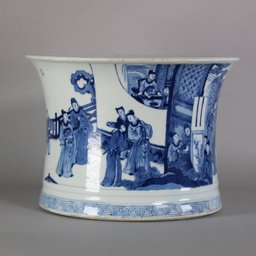 Useful Museum Websites For Chinese Porcelain
Examples of Kangxi Porcelain on this Website
Collectors of Chinese Kangxi blue and white porcelain or earlier blue and white porcelain would do well to acquire the following books:
Chinese Ceramics in the Topkapi Saray Museum Istanbul, Turkey; contributors: Krahl R; Erbahar, N; Ayars, J.; 1,384 pages; 200 colour plates; 4800 black and white illustrations; in all describing 10,000 pieces dating from the Yuan to the Qing dynasties
The relevant volumes from:
Master Pieces of Chinese Art in the National Palace Museum; Taipei, Taipei. National Palace Museum; Fu-Tsung, Chiang; Taiwan
For examples of European designs including Chinese Kangxi blue and white porcelain:
China for the West; by David Howard and John Ayers