Antique Iznik pottery takes its name from a town in Anatolia, part of modern day Turkey, which was the main centre of ceramic production under the Ottomans from the mid fourteenth-century until the end of the seventeenth-century.  Whilst early production, mistakenly known as Miletus ware, largely continued the previous Seljukid and Islamic stone-paste traditions, the high quality ceramic wares of the late fifteenth and sixteenth centuries were inspired by Chinese blue and white Ming-dynasty porcelain. Potters in Iznik developed a fritware, which when coated in a white slip, provided the perfect base to which painted decoration and a colourless glaze could later be added.
The sixteenth century is seen as a golden age in Iznik production, when innovations in the decorative repertoire and colour-palette became increasingly complex and diverse. Early sixteenth-century cobalt-blue and white Iznik ware which emulated Chinese porcelain was largely adorned with vegetal rumi and floral hatayi motifs, as can be seen on the large footed basin at the V&A.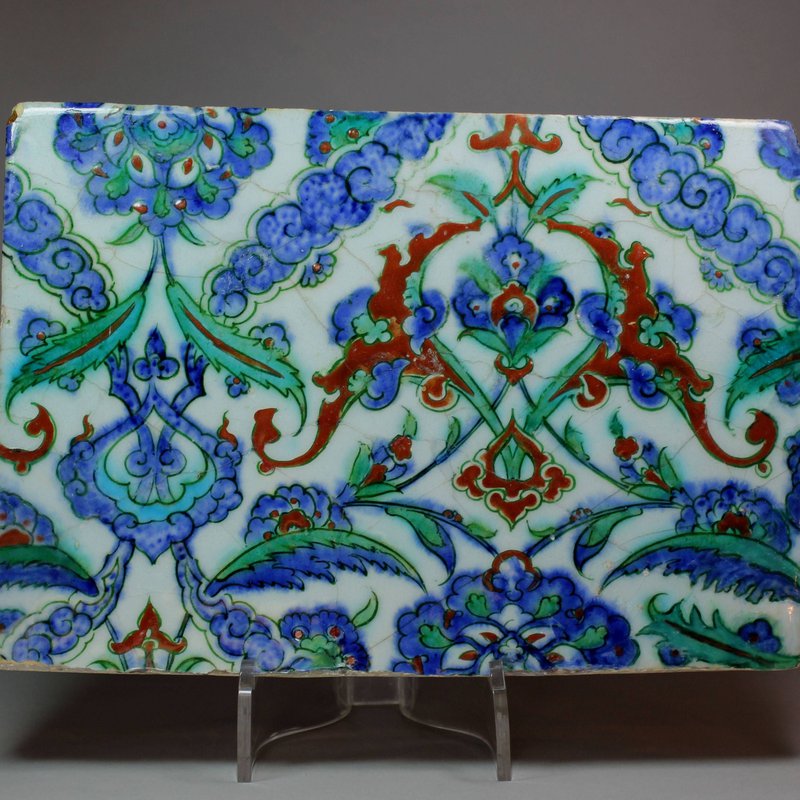 The appearance of turquoise alongside underglaze cobalt in the late 1520s, was followed a decade or so later by the introduction of a range of greens and in the 1540s an aubergine-mauve colour, later to be known as Damascus ware (see the Mosque Lamp held in the British Museum). These new hues were used to depict a whole range of increasingly stylized motifs from medallions and rosettes, to vases of flowers and geometric patterns. The distinctively Ottoman 'saz style' combined intricately drawn blooms with serrated leaves, whilst 'Golden Horn wares' of the 1520s-50s were covered in tiny scrollwork embellished with miniature leaves.
The greatest advancement in Iznik ware was undoubtedly the introduction of a vivid bole red and emerald green during the middle of the century, in place of the aforementioned purple and sage green painterly decoration. In the last quarter of the sixteenth century this polychrome colour-palette was prolifically used to depict both figurative scenes and abstract compositions before the onset of a slow decline in Iznik production at the beginning of the seventeenth-century and the eventual transfer of pottery production to the town of Kutahya in the eighteenth.
Suggested further reading on Antique Iznik pottery:
| | | |
| --- | --- | --- |
| Carswell, John, London, 1998 | Iznik Pottery | |
| Denny, Walter B., London, 2004 | Iznik: the artistry of Ottoman ceramics       | |
| Lane, Arthur, London, 1971 | Later Islamic Pottery: Persia, Syria, Egypt, Turkey            | |
| Necipoğlu, Gülru, Muqarnas, Leiden, 1990, 7: 136–170. | From International Timurid to Ottoman: a change of taste in sixteenth-century ceramic tiles | |
|  Carswell, John, London, 1982 | 'Ceramics', in Tulips, Arabesques and Turbans: Decorative Arts from the Ottoman Empire | |
Museums with impressive collections of Iznik Pottery include: